It becomes humanly difficult to run high capacity boiler by burning more fuel manually. Hence one can attain upto 400 kg/mt2 /hr Fuel combustion. The range of the boiler can be from 3-tons onwards.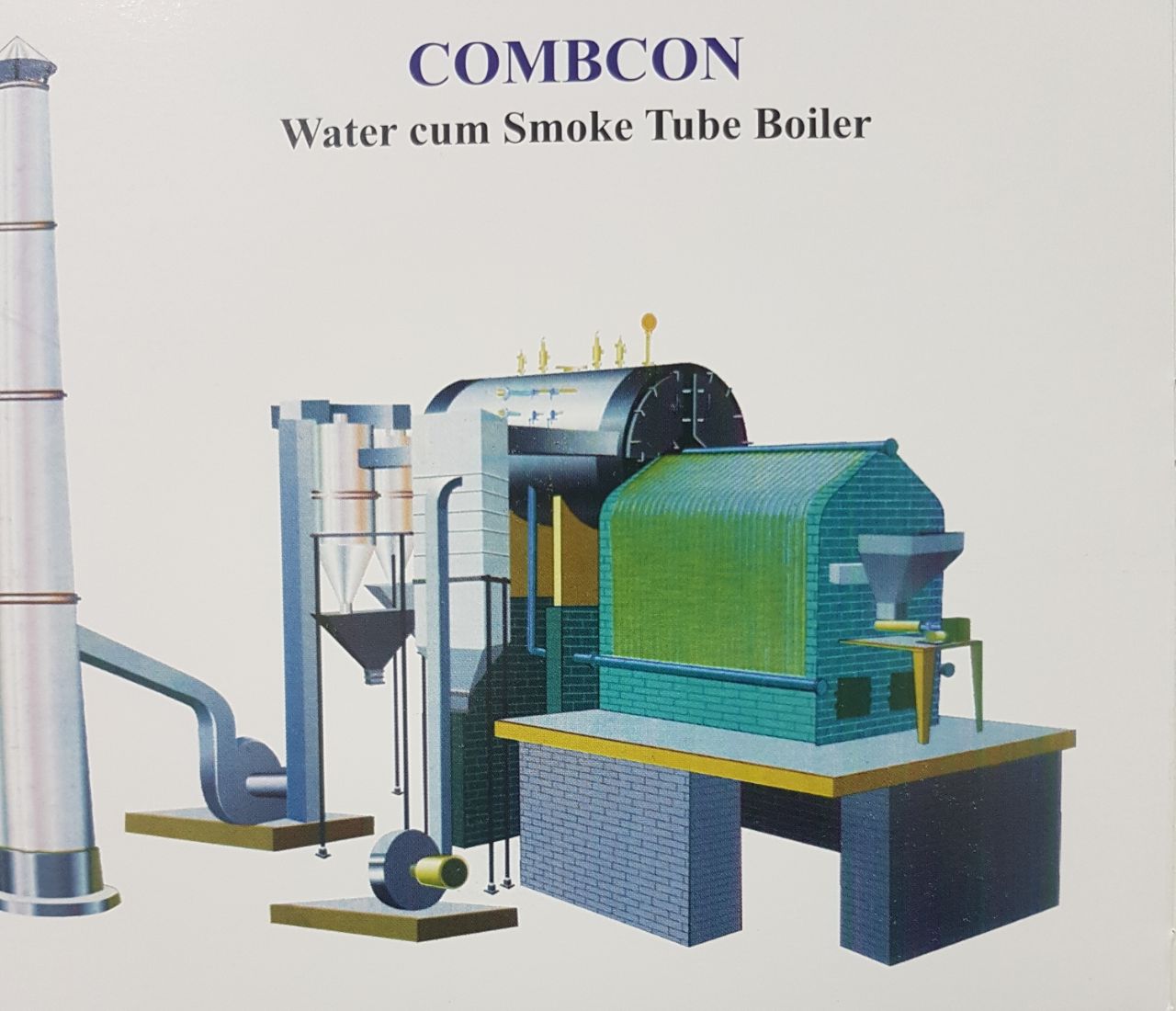 Increase in the fuel costs has forced Industries to look for cheaper alternative fuels. India being an agricultural nation, has a lot of agrofuels like Rice Husk, Ground Husk, Bagasse etc.
Qucon has the necessary expertise and experience to burn these agro fuels efficiently. These agro fuels are available for only 6 to 9-months in a year so there is a requirement for a firing system suitable for conventional fuels like coal, wood, oil, natural gas as well. In some industries, there is a need to fire byproducts like biogas.
Rice husk, Crushed Coal & Wood palette's address these scenarios using a systematic product development process and have come up with the perfect solution "COMBCON BOILER".
For efficient combustion of these fuels, the furnace temperature plays an important role. The furnace designs are chosen with adequate "Time, Temperature & Turbulance" for efficient burning of fuel. This results in

1. Consistent output
2. Less Furnace cleaning
3. Multiffuel capability
4. Efficient combustion
What COMBCON offers
Uninterrupted dry steam at rated pressure


Fuel flexibility


Agro fuel firing possibility


Conventional fuel like Coal and Rice husk


Lower fuel bills due to high thermal efficiency


Thermal efficiency 82% on GCV for conventional fuels like Crushed Coal


Thermal efficiency 80% on GCV for agro based fuels


Thermal efficiency 88% on NCV for oil, Natural Gas and Bio-gas


Less time needed for erection and commissioning


Easy access to boiler parts for cleaning and maintenance


Adequately designed ash settling chamber in furnace ensures the lowest ash carryover which results in lower erosion


High water holdup and adequate steam space gives sufficient thermal inertia for responding to fluctuating loads


Low consumed power
SAFETY

Qucon Boilers are designed to the latest international / IBR code & are Provided with more than all mandatory safety requirements.



EFFICIENCY

High overall efficiency combined with reliable operation is achieved through Accurate CAD thermal design of the boilers.



RESPONSE

Large water holding capacity of boiler can meet fluctuating steam load.



ACCESSIBILITY

Gas & water side accessibility will reduce maintenance "down time".



PERFORMANCE

Consistent & trouble free performance under "Normal Op. Conditions".



REFRACTORY

Minimum refractory, very less cost of maintenance.



FUEL

Multi-Fuel adaptability by selecting appropriate Combustion equipment.



STEAM PURITY

Large disengaging surface & free board distance in boiler ensures high purity Up to 98% dry saturated steam under adverse operating conditions.



INSULATION

Glass wool / Mineral-Wool insulation with rigid steel cladding provides High insulation & does not get damaged like aluminum cladded surface.

CONSTRUCTION

Pr.& non Pr.Parts both are ruggedly constructed to meet most adverse operating conditions in boilers house.