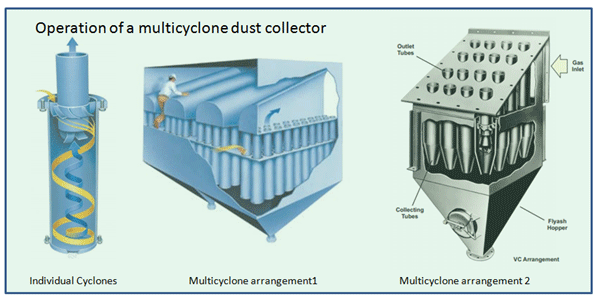 Mechanical Dust Collectors are used mainly for their reliable operation, low initial and operating cost and fairly high dust collection efficiency (85 - 90%) for coarse particles. These also act as preparatory for very high dust concentration with more efficient final collectors downstream.
Depending on volume of gas to be handled and required efficiency, these may be single cyclone or multi-cyclone of small diameter cyclone elements in cast iron construction fitted with inlet guide vanes.
The dust particles are separated from the air stream by centrifugal force.
These are available in a wide variety of designs, dust collection efficiencies and materials of construction and can be installed in any combination of units to meet the desired capacity. Mechanical Dust Collectors consisting of Cones, Inlet vane, Outlet vane, Gear box, Motor, Rotary Air Lock Value etc.
Raw materials used
• M.S
• Stainless steel
• CI Gr 20
Features
• Easy to install • High durability • Corrosion resistant • Zero maintenance

Standard Type : Multi Clone

• 4Cone, 6Cone, 9Cone, 12cone, 16Cone, 20Cone, 24Cone Model. Feature: Compact, flue gas at outlet is less than 500micron Of ash level.
Cones
We offer MDC Cones to our clients which ensures high quality together with leading technology. Today we have been carved a niche in the leading manufacturers of MDC Cone. Our clients count on us for high efficiency and durability.